← Back
Update: January 14
Meet new additions! 😊
This time we're excited to announce 5 updates:
1) New widget: Phone number
If you need to get the valid phone number, this widget is your go-to solution.
---
2) Gradient in themes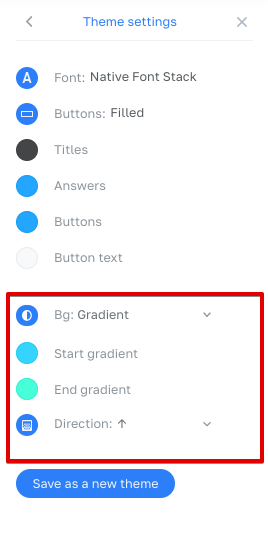 Set up gradients and their directions in themes, this will make your surveys stand out.
---
3) Navigation across responses
Switching between surveys has become even easier. Now you can do that using arrows. Enjoy!
---
4) Reorder elements with ease
Change the order of elements in your survey on the mini map, it's much more easier!
---
5) New features for the Thank You Screen
On the Than You Screen, you can activate the Auto switch button and Auto-redirect to the specific link.
---
And more:
Bug fixes
Builder optimization
See you soon! 😌